Each SCORE module covers a period of 2-3 months with a 2-day classroom training and three on-site factory visits.
- Pre-training: baseline assessment conducted by trainer/consultant to identify key performance indicators (KPIs) of the enterprise and areas for improvement;
- Classroom training: 2-day training taken by both managers and workers;
- On-site factory visits: tailored advice and improvement suggestions provided by professional experts;
- Module completion: progress assessment conducted against baseline to measure training impacts.
Upon completion of a module, enterprises will be able to:
• Establish EIT, working effectively as the core team for improvement;
• Encourage full participation of workers and managers in making and implementing improvement plans;
• Understand KPIs and establish systems to collect KPIs;
• Achieve preliminary results after the first module training, such as organized workplace, improved quality, lowered accident rate, etc.. These results will go further with implementing more SCORE modules and promoting continuous improvements.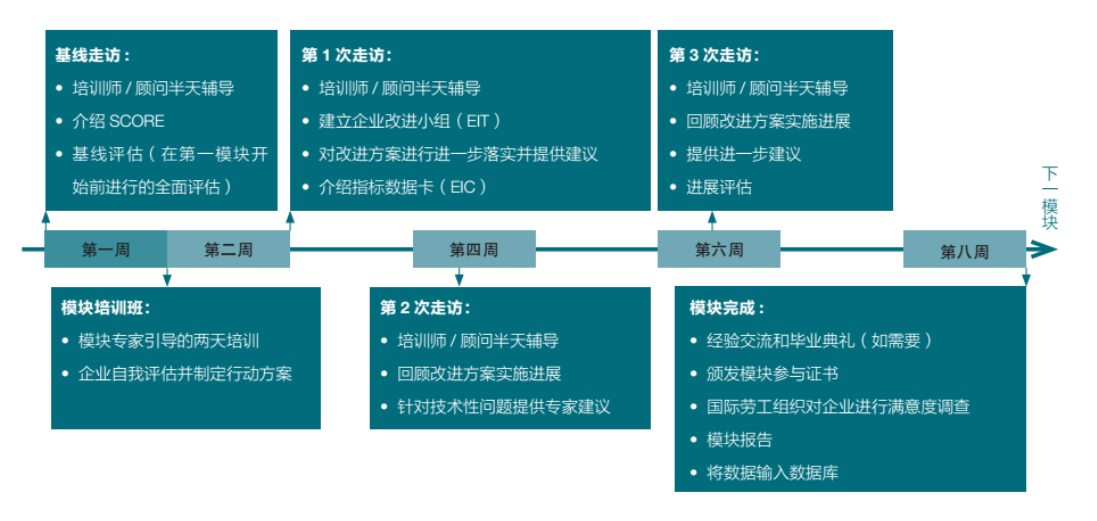 SCORE Business Evaluation
The corporate evaluation of SCORE programmes is an important part of the quality control of the programme, which allows for better standardisation of the training and consulting process and better communication with stakeholders on the progress and results of the programme. For the participating enterprises, the corporate assessment provides a standardised requirement to ensure that the programme achieves the desired results through a standardised training and consulting process. enterprises that pass the assessment will receive the International Labour Organization's SCORE project enterprise participation certificate, which is a recognition and encouragement of improvement and a convincing demonstration to stakeholders of the progress made in the area of sustainable development.
The purpose of the SCORE programme is to assess whether the SCORE methodology is known and understood by managers and employees, whether enterprises are able to apply the methodology and tools provided by SCORE to continuously improve their management capabilities, and whether, through the SCORE programme, enterprises have begun to focus on workplace collaboration and improve their competitiveness by upgrading their management.
There are seven modules in the SCORE programme and once a enterprise has completed the first module, set up a enterprise improvement team(EIT), implemented a enterprise improvement plan(EIP) and achieved some results, they can apply for the first module assessment. After passing the assessment, the enterprise will be awarded the International Labour Organization's SCORE project enterprise participation certificate and will be eligible to continue with the other modules.